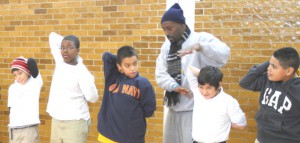 It's no secret that the work teachers do changes lives, a sentiment that seems more popular every day as a growing number of companies and individuals seek ways to acknowledge and reward teachers for their work. The financial services firm, National Life Group, is part of that movement, announcing that two teachers from Dallas ISD's Nancy J. Cochran Elementary School are among the nominees for its LifeChanger award. The effort is a national program that recognizes full-time educators, teachers and administrators who are making a positive difference in the lives of students.
Fourth-grade math teacher Romulo Zaragoza was nominated because he "is always helping students and teachers at the school," according to a letter of nomination posted to his LifeChanger profile. "Each day, he comes in early and stays late to offer extra tutoring time to students and/or to prepare his lessons for the day. His hard work and dedication shows. Last year, his students got the best math scores in the school."
On his profile, physical education teacher Robert Jacobs is described as "very knowledgeable in his field, dedicated to the Cochran students, and highly personable as a colleague. He is looked up to by students and staff for his ability to manage the large class sizes he teaches, as well as guide kids through the many struggles that they bring with them. Coach Jacobs is a great example of the hardworking, dedicated staff at Cochran Elementary."
The recognition program's website describes LifeChangers as educators who demonstrate…
A proven ability to make a beneficial difference in the lives of students.
An ability to positively add to the development of the school's atmosphere.
Leadership in his or her activities at the school and/or district level.
A proven record of excellent performance at the professional level.
A commitment to producing a nurturing atmosphere.
To date, the two Cochran Elementary teachers are among 100 nominees for the award. National Life Group expects to receive 400-500 nominations before the process closes Jan. 31. A selection committee will evaluate nominations in February. In May the company plans to announce 10 winners to receive cash prizes of up to $10,000 for themselves and their schools. Contest spokeswoman Jillian Rosa said the company creates a profile for each nominee on its website and invites members of the public to visit and post to the site to say thank you, mention how the nominee has impacted their life, or just offer congratulations. "We encourage people to come and leave comments to show appreciation for the nominee," she said.
To leave a word of thanks or congratulations for Jacobs or Zaragoza, look for their profiles under the nominees from Texas on the LifeChanger website.