Music is a universal language that crosses all boundaries. For a second-grader at Thomas L. Marsalis Elementary, music is more than just a language – it is the vehicle that moves imagination.
Meet 7-year-old Tinashe McGowan.
"Sometimes when I play the piano, it takes me on a little journey," said Tinashe. "I just start playing and I go on a magical adventure."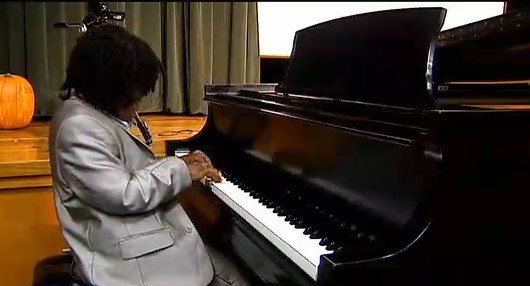 Quickly becoming a master of the classical piano, Tinashe has been playing since he was 3 years old. Tinashe's mother, Eneida Simpson, remembers his interest at such a young age.
"I knew he liked music since he was a baby," she recalls. "He used to sit with me on the piano and watch me play. When he got a little older and I realized his playing got better than mine, I knew it was time to get him a personal instructor."
Now Tinashe spends many afternoons practicing with his instructor, often times not because of his weekly schedule, but because of his keen interest.
"Tinashe was interested since the very beginning," said John Tatum, Tinashe's private instructor. "At 4 years old, when he'd figured out Beethoven's classical composition 'Fur Elise' by ear, I knew he had a special talent."
Recently, Tinashe had the opportunity to show his peers and teachers his unique talent at an Awakening Minds Program conducted by The Cliburn Foundation. During the program, world-renowned classically trained pianists spent some time with the school's second- through fourth-grade students discussing the language of music. Afterward, Tinashe preformed for his classmates on the baby grand piano loaned by the foundation.
"At first, my belly starts aching because I'm nervous," said Tinashe. "But then when I get to the piano and start playing, I calm down."
The second-grader's experience speaks volumes to the importance of exposing children to a variety of music, art and sports at a young age. The younger a child is, the easier it will be for him to pick up new talents as his abilities are barely forming.
"Children are like sponges," said Tinashe's mom Eneida. "I knew that I had to do everything to make sure that he learned while still being young. I encourage other parents to pay special attention to their children's interests. You never know when you may have a Beethoven at home."