Several Dallas ISD volleyball teams qualified for UIL high school volleyball playoffs this week.
District 9-6A was a fight to the finish with two Dallas ISD fighting to live another day in the transition to playoff action. Skyline and W.T. White, tied at 5-7, will face off at 5:30 p.m. Friday, Oct. 31, at W.T White High School to close the race for the fourth place spot for playoff qualification.
Carter led District 11-4A into playoff contention undefeated at 10-0 to take first place ahead of Lincoln (7-3), Wilmer-Hutchins (6-4) and Madison (4-6) to round out the four playoff sports for that division.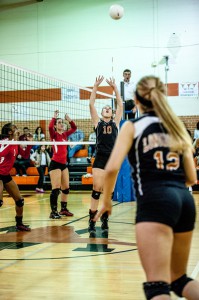 In District 11-5A, Woodrow Wilson finished the season 10-4 in third place and Hillcrest closes regular season competition in fourth place at 8-6.
Molina claimed District 13-5A with an 11-1 finish for first place followed by Kimball (10-2) for second place and South Oak Cliff (9-3) for third. The teams are scheduled to duke it out this weekend to establish the fourth place spot in 13-5A for playoff qualification. Samuell will play Seagoville at 6 p.m. Friday, Oct. 31, at Ellis Davis Field House; the winner will square off against Adamson at 10 a.m. Saturday, Nov. 1, at Davis.
Dallas ISD volleyball playoff schedule
| | | | | | |
| --- | --- | --- | --- | --- | --- |
| Date | Time | Home | Visitor | Location | Admission |
| Oct 31* | 5:30 pm | W.T. White | Skyline | W.T. White | $3/$2 |
| Oct 31* | 6: 00 pm | Samuell | Seagoville | Ellis Davis | $3/$2 |
| Nov 1* | 10:00 am | Adamson | Samuell/Seagoville | Ellis Davis | $3/$2 |
| | | | | | |
| Nov 3 | 6:30 pm | Madison | Melissa | Conrad | $5/ $3 |
| Nov 3 | 6:30 pm | Molina | Mansfield Legacy | Arlington Bowie | $5/ $3 |
| Nov 3 | 7:00 pm | Wilmer Hutchins | Bonham | Lucas Lovejoy | $5/ $3 |
| Nov 3 | 7:00 pm | Kimball | Mansfield Summit | Grand Prairie | $5/ $3 |
| Nov 3 | 7:00 pm | Hillcrest | Rockwall Heath | North Mesquite | $5/ $3 |
| Nov 3 | 7:00 pm | WT White/Skyline | JJ Pearce | RL Turner | $5/ $3 |
| TBD | TBD | Carter | Princeton | TBD | $5/ $3 |
| Nov 4 | 7:00 pm | Lincoln | Nevada | West Mesquite | $5/ $3 |
| Nov 4 | 7:00 pm | Adamson/Samuell/Seagoville | Waxahachie | Ellis Davis | $5/ $3 |
| Nov 4 | 7:00 pm | South Oak Cliff | Mansfield Lake Ridge | South Grand Prairie | $5/ $3 |
| Nov 4 | 7:00 pm | Woodrow Wilson | Forney | Sachse HS | $5/ $3 |
*Playoff qualification/ tie-breaker game
Photos are courtesy of Larry Young Photos