Approximately $2.1 million in college tuition savings. That is the amount Dallas ISD minority students saved in college tuition costs by passing one or more Advanced Placement (AP) exams last May. This group of students led the nation in the number of qualifying scores on AP exams in subjects such as math, science and English.
"We know of no other large urban district in the country that has even half the results Dallas has with respect to the percentage of their minority students passing AP math and science exams," said Gregg Fleisher, Chief Academic Officer of the National Math and Science Initiative (NMSI).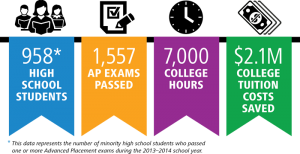 Earning a score of three or higher on an AP exam enables students to gain college hours in the mastered subject area. This equates to college tuition savings, which for many can make a significant difference in their ability to attend college.
More importantly, however, AP exams are an indicator of college readiness. Research has shown that students who master an AP course in high school are more likely to achieve success in college.
The newly released data by NMSI is an indicator that Destination 2020, the district's strategic plan to ensure that all students are college- and career-ready by the year 2020, is beginning to yield results. For every 1,000 minority junior and senior students in Dallas ISD, there were 102 qualifying exams with scores of three or higher.
Through a partnership with the Texas Instruments Foundation and NMSI, Dallas ISD funds all student's AP exams, which are administered by the College Board and cost approximately $80 each.
"For the past two years we have focused on academic rigor, improving the quality of instruction and creating a culture of instructional feedback," said Superintendent Mike Miles.  "The trajectory of this work is surpassing other large urban school districts and we want to thank Texas Instruments and the National Math and Science Initiative for their partnership."
Part two of this story will focus on the students who benefit from this program.