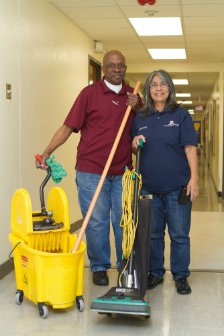 Juanita and Juan of our maintenance staff always share a friendly smile around the halls of 3700 Ross Avenue. Both are cancer survivors and both agree they enjoy coming to work each day. We hope you enjoy getting to know our co-workers Juanita and Juan!
Juanita is originally from Nuevo Laredo, Tamaulipas, México. She has been with Dallas ISD for 17 years. She feels very happy about her lifetime experience and enjoys the work she does every day; cleaning windows and making the floors shine is something that she feels proud of. Juanita feels it is a great responsibility to keep a clean workplace for everyone in the building. She is also a cancer survivor and she feels thankful with all of her workmates who offered support and understanding when she needed them most.
Juan González is from Cuba. He has been working for Dallas ISD for more than 15 years. Mr. González is very dedicated to his job and enjoys his responsibility of making sure his assigned area appears clean and shiny. Mr. González is also a cancer survivor and he is thankful for all the care and support received by his workmates at the Central Administration building during that stage in his life.