The College Board has announced major changes to the Scholastic Aptitude Test, one of the nation's leading college entrance exams. The changes that will go into effect in 2016 aim to make the test more closely reflect what high school students are learning.
Some of the key pieces of the SAT that are going away are penalties for wrong guesses and replacement of obscure or abstract vocabulary words with terms that are more applicable to current college curriculums. Additionally, the previously required essay will be optional, and math problems will test students' understanding of and ability to apply concepts required for success in college and careers.
The new exam will be available on paper and computer, and scoring will return to the former 1,600-point scale — from 2,400 — with 800 the maximum score on the math section as well as the verbal section, which will be called "evidence-based reading and writing."
As part of its Destination 2020 efforts to increase the number of high school graduates who are college- and career-ready, Dallas ISD is not only encouraging more students to take entrance exams, but also is doing more to prepare students for the tests. Last summer, the district offered SAT/ACT preparation courses to f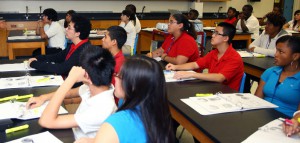 reshmen, sophomores and juniors in the Superintendent's Scholars SAT/ACT Summer Preparation Programs.
"Test preparation allows students to become familiar with the format, timing, and content before taking the actual exam," said Keisha Davis, director of Postsecondary Success and College- and Career-Readiness. "Just like with a test you'd take in math class, the key to doing well is making sure you're prepared. Standardized or not, good scores are all about the test preparation you put in before test day."
The district's exam prep programs provided students instruction on strategies to promote greater success on the SAT or ACT. Certified Princeton Review instructors worked with students to help them understand different types of questions, and employ various strategies to approach the exams.
Starting in November, students have six opportunities to take the exam through June 2015. The registration deadlines are about a month in advance of the test dates. To increase student access to entrance exams, Dallas ISD is providing waivers that will cover the cost of the tests. In addition, the district will facilitate an SAT School Day on Feb. 25, 2015, when 8,000 juniors will take the exam in their classes during the regular school day.
"ACT and SAT enable districts to create a unique opportunity for students to take the assessments in their home schools, thereby providing encouragement for all students to pursue a college education," said Davis. "Administering the school day exams encourages more students to take the test and increases access to college. It also sends a powerful message regarding the district's commitment to prepare all students for the next step after high school."
Davis said testing on a weekday helps avoid interference with weekend jobs or family obligations, and eliminates the need for students to arrange transportation to testing sites.