"Ain't it fun? Living in the real world."
Those song lyrics by pop group Paramore came alive for students in the School for the Talented and Gifted at Yvonne A. Ewell Townview Center. Students embraced reality when they were tasked with coming up with a real-world solution for a piece of land located in The Bottoms and the 10th Street District.
The four-day project had the students trekking all over the city meeting with leaders, developers and various economic, regulatory and legislative experts. Students sifted through city documents and, together with their peers, created a realistic, meaningful and high-quality land development solution that would aid in connecting Townview Center with the surrounding community. The design proposal was then presented to a panel of experts for review and feedback.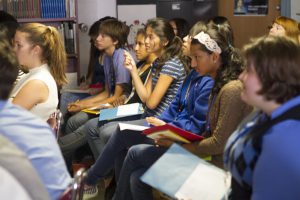 Students in Dr. Rebecca Jensen's group reviewed demographics of the community, including average income, and found that a community center focused on job training would be the best use of the old Classic Motel located in the community. One of the pros in choosing this location included a DART bus stop, which would provide transportation for those without vehicles. The group discussed zoning ordinances, parking requirements, projected annual income and expenses and potential community partners.
Preparing students with the skills necessary for the 21st century is a must in today's educational climate – and this means tasking students with projects based on real-world problems that require real-world solutions. Students must be able to freely move outside the boundaries of a traditional school setting – which is a solution that schools within Townview Center provide. At Dallas ISD, we want more public school choices, like Townview, for our students.
Allowing students and their parents to choose how they best learn is a top priority in Destination 2020 – the district's strategic plan to have college-and career-ready students for the year 2020 and beyond. Dallas ISD plans to open 35 public school choice locations by the year 2020 and we want to hear from you.
Take the public school choice survey today by clicking here.