October is Breast Cancer Awareness Month, and Dallas ISD students are helping to do their part. For the second year, students at Zan Wesley Holmes Jr. Middle School will spend the next few weeks decorating pumpkins to donate to the Susan G. Komen Walk for the Cure. For their efforts, the students are scheduled to be recognized by KDFW's Clarice Tinsley as Hometown Heroes on Ch. 4, at 5 p.m., Monday, Oct. 6.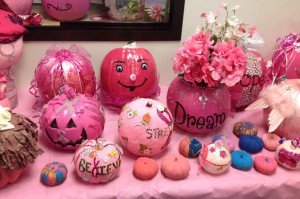 The pumpkins will be decorated using colorful beads, rhinestones, ribbons and other embellishments and delivered to North Park on Oct. 16 to adorn the survivors' tent at the Komen Walk for the Cure on Oct. 18. The students hope the pumpkins will encourage survivors and others participating in the walk.
Last year, more than 150 pumpkins were decorated and delivered to the event.