Former U.S. Army General Colin Powell commanded the rapt attention of more than a thousand young people at a motivational talk he presented Tuesday, Sept. 30, at SMU's McFarlin Auditorium as part of the HART Global Leaders Forum.
The audience included 500 Dallas ISD JROTC cadets and their army instructors and 60 other Dallas ISD high school students who attended with their counselors. All seemed to be captivated for the duration of Powell's 45-minute talk and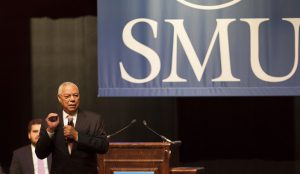 audience Q&A. The former diplomat discussed his upbringing by immigrant parents in the Bronx, what he called a mediocre academic record in high school, and his unlikely rise through the ranks of the U.S. Army after participating in ROTC at City College of New York. He attributed his ultimate rise to four-star general, Chairman of the Joint Chiefs of Staff, and secretary of state, to a family that encouraged him to always do his best and to stay in school and make something of himself.
Looking out over the audience of predominantly brown and black students, Powell projected America would look much like them in the near future as the country becomes more diverse, a change he said will not be a problem if students of color stay in school and get a good education. "We are a nation of immigrants," he said, "and we have always been a nation of immigrants. The country needs you and we can't afford to have you unprepared to take on the leadership of our nation."
He urged students to always do their best, to keep a good attitude, to always be optimistic, to be their own role models, and to remember to reach back to help those who may not have yet reached a level of success.
Elida Martinez, from the School of Business and Management at Yvonne A. Ewell Townview Center, was inspired. "He went through all these obstacles and even though there was discrimination, he kept on going," Martinez said. "He is where he is now because of that will to be the best he could be. That really inspired me to say I can go wherever I want to regardless of the challenges I face."
Noble Obriki of Barack Obama Male Leadership Academy said his takeaway was the importance of a winning attitude. "When I take my AP dual-credit classes, I'm going to go in with a winning attitude and have more focus," he said.
Powell's advice to put your all into everything you do resonated with David W. Carter JROTC Cadet Patricia Smith. "I agreed with him when he said it's your purpose and your potential that will take you places," she said.
LTC Robert Davis, head of Dallas ISD's JROTC program, said it was important for students to hear from such an esteemed leader firsthand. "The cadets too often see success in terms of entertainment, sports and, I suspect sometimes, the streets," Davis said. "It would be difficult to provide a better example of an individual who is a winner than Gen. Colin Powell, who is in every respect an example of excellence."