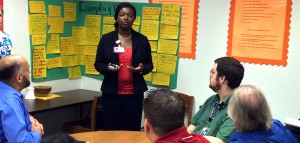 Dealing with an emergency situation like the Ebola virus can be unsettling, to say the least. The stress alone can have serious effects on one's mental and emotional well-being. To help Dallas ISD teachers cope, medical staff from Children's Health spent time visiting each of the affected schools to talk with teachers and answer questions about the virus.
"Our goal was to give everyone the facts—what we know and what we don't know about Ebola," said Dr. Angela Moemeka, Community Health vice president and medical director at Children's Health. "This virus is relatively hard to catch. Unless you are exposed to a symptomatic person with Ebola, you will not catch it."
Moemeka was one of two physicians who visited with teachers and staff in an effort to allay any fears and provide as much information as possible.
Teachers and school staff are often the first points of contact for students and parents, which is why it is important that they have the most accurate and up-to-date information available.
"I think the teachers had great questions," said Moemeka. "And the district did an excellent job providing information, so I would encourage the teachers to go back to focusing on the students and continue doing the good work of educating them."