The Dallas Independent School District was well-represented at the recent Alliance for a Healthier Generation 2014 Leaders Summit. James Bowie Elementary School achieved the Gold National Healthy Schools Award, one of only six awarded this year nationally, and the only one given to a Texas school.
The Dallas Environmental Science Academy and Edward Titche Elementary School both earned Silver National Healthy Schools Awards, with only three going to Texas schools and 34 awarded overall. Rounding out Dallas ISD's recognition, Herbert Marcus Elementary School and Sam Tasby Middle School were two of the 210 schools nationwide to achieve the Bronze level of the award.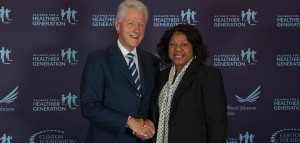 Each year, the Leaders Summit celebrates schools from across the country that have met the Healthy Schools Program benchmarks for creating healthy changes.
Bowie Principal Noelle Wilson shared a few of the healthy changes they made at their school to achieve the Gold recognition. "We offer healthy snacks to our students and families during evening events and also to our teachers and staff during after school meetings," Wilson said. "Teachers are learning to incorporate brisk movement into multiple-response strategies to keep students alert and attentive throughout the school day."
At Titche, changes such as 20-minute daily recess and classroom "brain-break" activities are making a noticeable difference. "After implementation of our wellness program, we have noted decreased daily student clinic visits and increased food consumption at lunch, in addition to a renewed enthusiasm for healthy behaviors in our staff members," said Principal Rhonda Pickens. "With our students' increased physical activity and improved nutrition, we expect students to become more actively engaged and perform better on upcoming state testing."
Additionally, Sharon Foster, the P.E. teacher at Bowie, and Titche school nurse Susan Rhine, BSN, RN, are National Healthy Schools Program Ambassadors. Ambassadors have successfully implemented program and policy changes that support healthy eating and physical activity in their schools, and they serve as a resource for others working to create healthier school environments.