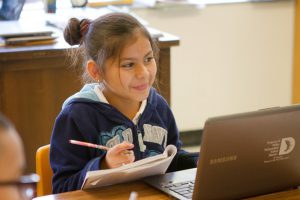 Looking for fun, safe sites for our youngest learners? Visit our Online Resources page to access resources that help preschoolers and children grasp critical early childhood concepts in a fun, interactive manner. Parents, please feel free to use at home.
BrainPop – Animated Video Collection that engages students, supports educators and bolsters achievement. (see your librarian for username/password)
Early World of Learning -Three interactive learning environments that are sure to captivate the imagination of our students.
Unite for Literacy eBooks – Books that connect with young children and their families with narrated audio supporting more than 300 languages spoken in U.S. homes. eBooks are structured to reflect the most current research on the specific features that impact success for beginning readers of all ages.