National Blue Ribbon status is one of the highest honors any school can achieve. Each year, the U.S. Department of Education announces the schools considered high-performing or those where students are making significant improvements in achievement levels. This year, Dallas ISD has four schools nominated for consideration, which is a huge accomplishment. This is a two-part series highlighting the schools.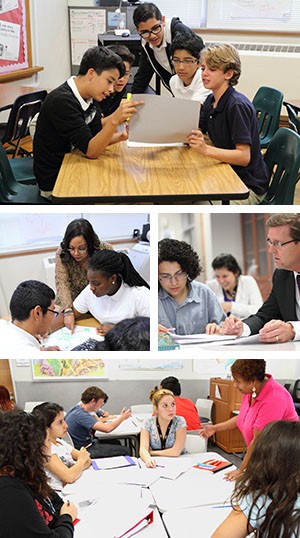 "Think globally, act locally, and go boldly into the future." That is the school motto at Henry W. Longfellow Career Exploration Academy, and it is a driving force for the school's approximately 430 students each day as they prepare for success beyond middle school.
"We are focused on increasing student achievement and helping students to begin their career-exploration journey," said Principal Cheryl Breedlove-Wright. "Students understand that being accepted to Longfellow Academy means that much is expected of them and they step up to those high expectations."
The school's curriculum supports advanced core subjects of language arts, math, science and social studies. At the same time, it offers students another dimension of learning through classes focused on career exploration, business entrepreneurship, STEM, career portals investigation and a synergistic lab. In the lab, students complete modules on critical thinking, conflict resolution and goal-setting, as well as project-based learning activities as part of the Career and Technology Pathway.
Just six miles south of Longfellow in the heart of downtown Dallas, students at Dr. Wright L. Lassiter Jr. Early College High School are engaged and focused on academics and college. With approximately 250 students who are first-generation college students, Lassiter is fully committed to providing an exceptional education for each young scholar.
"Our success can be attributed to the emphasis on two key elements: campus culture, and quality instruction," said Principal Michael St. Ama. "The faculty and staff combine their efforts to create a nurturing environment in which all students feel valued, wanted and safe. The minds of our young scholars are primed for learning."
School staff provide large measures of support, mentoring and advising as students learn to manage newfound independence and high academic demands. The school's small size allows faculty members to develop positive relationships that motivate students to do great work. Last year, the average senior at Lassiter graduated with 68 college credit hours with 44 out of 49 seniors (90 percent) earning their associate degrees before high school graduation.
"I truly believe that our National Blue Ribbon School nomination is based on the success our young scholars are enjoying in their high school and college classes," St. Ama said. "This is due in part to the academic behaviors and tenacity that our students possess as well as the dedication of the faculty to the success of the students in their classroom."
The 2014 Blue Ribbon Schools are expected to be announced later in September.
Part two will highlight Blue Ribbon School nominees Kathlyn Joy Gilliam Collegiate Academy and the School of Business and Management at the Yvonne A. Ewell Townview Center.