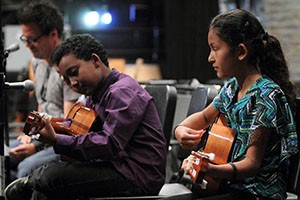 Dallas ISD teachers interested in teaching Modern Band will soon have the opportunity to participate in a Little Kids Rock training workshop to prepare them to teach their students how to play popular music including hip hop, rap, rock and blues. Composition, improvisation and recording are also emphasized.
Dallas ISD has partnered with the nonprofit organization Little Kids Rock (LKR) since 2008, giving thousands of students the gift of music. Approximately 75 district schools will benefit from LKR this school year. Nationally, more than 100,000 students take part in the program."We are able to reach a group of students who aren't necessarily involved in band, orchestra or choir," said Elaine Thomas, director of Dallas ISD Elementary Art and Music. "But almost every kid is interested in drums, guitars and keyboards. It gives students the opportunity to create pop and contemporary pieces. It shows them how all the parts fit together to be able to create music."
At the secondary level, teachers incorporate Modern Band into the school curriculum. At the elementary level, it is offered after school. To create a rocking classroom, teachers must meet the following requirements: be a full-time educator, have principal approval, have basic proficiency on guitar and be interested in teaching Modern Band. The LKR workshop is set for 9 a.m.-5 p.m. Saturday, Sept. 20, at Nolan Estes Plaza, 3313 S. Beckley Ave. Space is limited and teachers are encouraged to
sign up online
to reserve their spot.
"Making sure that every child has access to music education is a key component of our program," said Keith Hejna, a spokesperson for LKR, which provides training, curricula and free musical instruments to educators. Henja added that the program is offered to students at no charge.