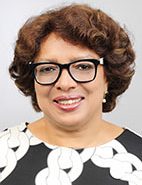 This summer, Humanities Texas selected Skyline High School AP English Literature and Composition teacher Margie Robinson as a recipient of a 2014 Humanities Texas Outstanding Teaching Award. Robinson was selected from more than 500 nominations of Texas social studies and language arts teachers. The recognition is another distinction for the NASA project manager turned teacher, who instills a passion for learning in her students. The award is a "pat on the back that all teachers need from time to time," said Robinson. "But it really speaks well of the students. It's an award for all of us."
While working at the Kennedy Space Center in Florida, Robinson began collaborating with educators to incorporate the sciences into their curriculums. For her first project, she introduced the novel October Sky, about NASA engineer and instructor Homer Hickam, to a group of middle school students. She held book discussions, encouraged model rocketry, and brought the students out to the space center. After that experience, she found herself spending more time volunteering in classrooms and ultimately resigned from NASA to earn a degree in Secondary English Education. Eighteen years later, she has the same passion for teaching as when she began, saying, "The desire to inspire my students to become life-long readers, thinkers and communicators – both in print and verbally – is why I teach."
The students' response to Robinson's enthusiasm is evident. The AP English exam scores for her classrooms are consistently among the highest in the district. Her assignments "explore literature as a study of the human condition," with activities such as poetry slams, mock trials, and the Mary Shelly's Frankenstein Memorial Service, where students write and perform original songs or dances, dramatize a favorite scene, or create an interactive presentation. All students must contribute an original, reflective elegy poem written in memory of a character in the novel.
Robinson emphasizes the many skills students gain when reading, including critical thinking skills. "It makes them think about their lives," she explained. "They begin to look inward and outward. We discuss world issues. I cannot imagine any profession being more fulfilling than being an educator. No two days are ever the same."
Margie Robinson is in her 12th year at Skyline. She also incorporates community service projects into her lessons, including an "I Can" food drive, with students wrapping canned goods with labels noting all of the skills they gained that year.