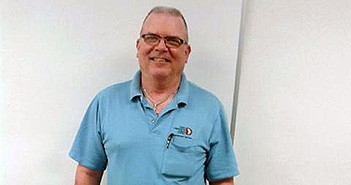 Dedication is what retired Dallas ISD Maintenance and Facilities employee Brent Ditmars says kept him on the job for 41 years.
Ditmars, who has worked at many Dallas ISD schools, started out painting facilities and then working on wooden floors. That's when his supervisor,who knew he could draw, asked him to paint the mascots on the floors in the gyms. You can find Ditmars' artwork in places such as L.G. Pinkston High School, H. Grady Spruce High School and numerous other facilities. He's proud of the legacy he's left behind in his work.
"I have mixed emotions about it, after having done something for that long," said Dimars of his retirement.
Ditmars, a Vietnam veteran, began working for Dallas ISD in 1973.
"I had just gotten out of the military and my son, Brady, had just been born, so I needed a job," he said. "I stayed dedicated to it and it's been good to me. It's put food on my table, and the benefits have been good."
The camaraderie established after many years of service is undeniable. His co-workers even gave Ditmars a nickname: "the King of the One-liners," referring to his sharp wit. Now retired from his job in Dallas ISD, Ditmars also is a musician. He is a drummer for the country and western band Gold River, and says Merle Haggard is one of his greatest musical influences. He plans to spend time with his family and travel more with the band.