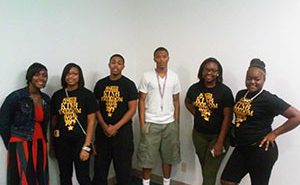 Six Dallas ISD students will travel Sept. 25 to Washington, D.C., for the second leg of the commemorative 2014 Freedom Riders historical tours. The students' journey this time centers on the 50th anniversary of the Civil Rights Act of 1964 signed into law by President Lyndon Johnson.
Each trip focuses on a pivotal time in the nation's history and requires students to take on the roles of well-known leaders of the civil rights movement as they re-enact historical events.
During this trip, the students will portray well-known Dallas activists and envision what it might have been like had the leaders stood next to President Johnson during the signing of the monumental legislation. Organizers hope the group will have the opportunity to visit the actual room where the signing took place.
In order to fulfill their roles, each student spent the last few months studying the local leaders they will portray and learning about their impact on the civil rights movement.
To further prepare for their roles, students worked with a local Toastmasters club to develop their communication and etiquette skills before embarking on the tour.
"For most of the students, this will be the first time they've taken a flight anywhere or experienced anything like this, so this will be a completely new experience for them, and we want them to be well prepared," said Jerry Chambers, trip organizer and chaperone.
Students plan to visit the White House, the Senate, Congress and the offices of U.S. Rep. Eddie Bernice Johnson and U.S. Rep. John Lewis. While there, students will also attend a STEM conference spearheaded by Congresswoman Johnson.
Lincoln High School students Essence Carson, Joshua Edwards, Keja Johnson, and Tafari Witter will take on the roles of former council members Elsie Faye Heggins and Al Lipscomb, current-day council member Carolyn Davis, and newspaper publisher William "Bill" Blair, respectively. Eboni Morrison from James Madison High School will portray NAACP leader Juanita Craft, and Chima Nsi from Justin F. Kimball High School will portray Judge L.A. Bedford. Skylor Parker, a student at St. Anthony Academy, will join the group and portray Congresswoman Eddie Bernice Johnson.
Chambers, a longtime activist, says the re-enactments are designed to bring history to life for the students. Earlier this year, the students traveled through Louisiana, Mississippi, Alabama and Georgia re-enacting the historic 1961 Freedom Rides.
Organizers are still accepting donations to help cover the students' expenses for the trip. For more information, contact Jerry Chambers at chambersjerry37@yahoo.com.