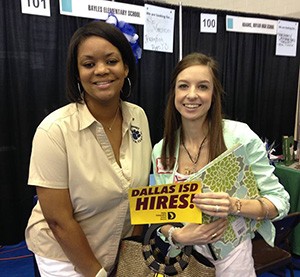 Zero teacher vacancies for the start of the 2014-2015 school year was the goal of Dallas ISD's Human Capital Management department. "To be able to reach that goal, we had to change our mindset, "said Tony Muñoz, executive director of Human Capital Management.
The department came incredibly close to reaching its goal as there are currently no bilingual teacher vacancies, and only 17 teacher vacancies districtwide — many of which are in Career and Technology Education (CATE) courses. CATE teachers are required to have experience in specialized fields (such as cosmetology, automotive, etc.) and those positions can be challenging to fill.
Muñoz attributes this record-breaking effort to "stronger partnerships with school leadership." HCM conducted extensive early planning and workforce projections to find out how many people were leaving jobs at district campuses. Working proactively, principals estimated possible vacancies, expediting the process. Positions were filled earlier than before, which also helped, he said.
L.V. Stockard Middle School was one of many campuses that started the school year with all its teaching positions filled. "Being at zero vacancies on the first day allowed us to ensure that students received quality instruction from the very first day to instill a sense of urgency in our students and school," said Principal William Arevalo. "The aid that HCM provided school administrators by organizing improved job fairs and doing a lot of the pre-screening was key in helping us find the best people for our schools."
Aggressive recruiting was also a key tactic. HCM targeted recruitment efforts based on historical data, and focused on universities and other sources that had provided excellent candidates in the past. Another enhancement that sped up hiring was improving the online application process, and the addition of more staffing specialist positions.
"We revisited every process to figure out how we could improve the service to our primary customers, the campuses," said Carmen Darville, chief of Human Capital Management.