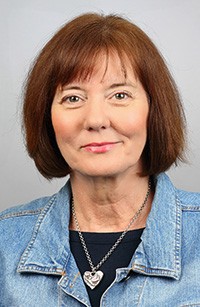 Pamela Taylor's first teaching job was 14 years ago in the L.G. Pinkston High School Reconnect Center. She enjoyed teaching, but struggled with the challenging nature of the program. One evening nearly four years into her role at Pinkston, she saw a ticker across the bottom of her television saying that there was a shortage of school librarians, and she knew what her next step would be.
"I immediately began pursuing my certification to become a librarian. I've always loved reading and knew this was where I could make a difference," said Taylor. She and her husband relocated to Louisiana for eight years, and she worked as a librarian in East Texas and Louisiana schools. She was thrilled when her husband came to her one day and said "We're moving home."
Taylor knew she wanted to serve at Kennedy-Curry Middle School, because she felt that was the environment where she could make the most impact. "I have the best job ever," she said. "We've got a great principal who has created a positive atmosphere."
Soon, Taylor began incorporating her photography hobby into her work. A spread in a photo magazine inspired her to use her love of taking pictures to encourage her students to read. "If you can read, you can get a job and advance in life," she said.
With the KC Students Caught Reading project, Taylor gives students reading materials, and then takes photographs as they settle in to their books. She displays the photos in the school hallway, where students stop to seek out pictures of themselves and show their friends. "They'll stop and say 'Wow that's me!'" said Taylor. "I want them to see themselves reading; to see that, yes – that is them!"
The library has become a refuge for students looking for a place to escape from peer and academic pressures. Taylor keeps games on hand, and encourages activities such as "Raw Poetry" to keep students engaged. Last year, she began creating video book trailers similar to movie trailers. These clips run on a computer screen, where students often will pull up a chair and watch them all. "I try to select books that are popular at the time, but that most students would never pick up on their own," said Taylor. She recalled one boy she described as "really not a good student. He would only read simple graphic novels." One book trailer caught his attention, and he watched it repeatedly. "It was a long, tough book," noted Taylor. He eventually checked the book out, read it and loved it. A new reader was born.
Pamela Taylor shares her photos of Kennedy Curry students on a Pinterest page. Another indication that Taylor is making a difference? Her school's STAAR reading scores showed a significant increase last year.
Do you know of district employees who have gone beyond the call of duty? Send their names to thesamepage@dallasisd.org.