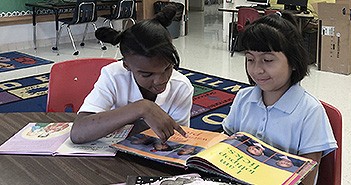 In the span of 60 seconds, one's life can change in many ways. What if students chose to use those 60 seconds to read? That is just what Dallas ISD librarians are hoping to achieve when International Literacy Day (ILD) lifts off on Monday, Sept. 8.
The worldwide event, sponsored by the International Reading Association, will encourage students to read for an additional 60 seconds each day for 60 days. The hope is that by the end of the 60 days, students will have formed a reading habit that will continue throughout the school year.
The theme for this year's event, "Lift Off to Literacy," will encompass a number of events and activities designed to engage and motivate students to read.
At Robert T. Hill Middle School, librarian Maria Rodriguez is excited to be a part of the annual back-to-school event that encourages students to expand their reading repertoire. Rodriguez said that the students will introduce the event to their peers with a motivational and inspirational video leading up to the scheduled Sept. 8 event. On the day of the event, prominent business and community leaders will visit Hill Middle School to read to students while sharing their views on the importance of reading.
Rodriguez plans to continue the celebration all year long by challenging each student to read 50-100 books during the school year. Rodriguez conducts a number of events during the year to help students achieve the reading goal including the Scholastic Book Fair, the Bluebonnet Reading program and the popular "Date with a Book," which allows students to send a book to someone they care about on Valentine's Day.
At Paul L. Dunbar Learning Center, librarian Faye Davis plans to kick off International Literacy Day with stories from around the world, featuring a full display of international books either written by an international author or set in another country. To add to the authenticity of the experience, Davis plans to bring in cuisine from the countries that are highlighted in each of the books. She will also encourage the teaching staff at Dunbar to add an additional 60 seconds to their lesson plans to give students the opportunity to read.
Both Rodriguez and Davis are thrilled to be a part of International Literacy Day and the "Lift off to Literacy" campaign.
"More than anything here at Dunbar, we promote reading every day," said Davis. "It is vital if we want our students to be college and career ready."
Rodriguez echoes Davis' sentiments. "Reading opens doors and opportunities," she said. "It is a discovery mechanism that allows students to create and embrace ideas which in turn allow them to be successful."
Find information on Lift Off to Literacy here.