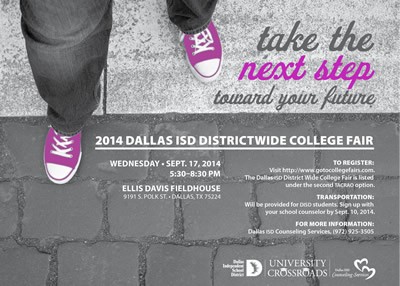 Dallas ISD's annual college fair aims to increase students' awareness of the benefits of attending college, and to get families face to face with the representatives of the higher education institutions that are expected to participate in this year's event. The free fair is scheduled from 4 to 8 p.m. Wednesday, Sept. 17, at Ellis Davis Field House, 9191 Polk St.
Dallas ISD Counseling Services Executive Director Dr. Sylvia Lopez said the event is all about exposure to the world of college, increasing awareness and providing opportunities for students to talk directly with college admissions staff.
"The fair introduces our students to many colleges and universities that they may have never thought about," Lopez said. "We hope their being in the presence of more than 200 representatives of colleges will spark an interest in going to college."
Counselors preparing students for the college fair can help them to get the most from the event by encouraging them to do some advance planning. Abby Chu, a senior admissions counselor at Southern Methodist University, recommends that students come prepared with at least three questions to ask each admissions representative they visit.
"These might concern available internship opportunities, how much job placement support the school provides its graduates, and how the students might make themselves more competitive for admission or scholarships," said Chu. "These are good conversation starters and will eliminate students having to spend time thinking up questions once they're talking with the admissions representatives."
Chu also recommends students explore both two- and four-year schools because they may decide later they want to consider pursuing an associate degree. During this stop, she said students should ask about how easy it will be to transfer credits earned at a community college to their preferred four-year school.
After the fair, Chu said students should carefully read and review the information they collected at the event. If they read carefully, she said students will often pick up important details about a school's student activities and financial aid.
This is the eighth year of the districtwide college fair, which Lopez said has fostered an increase in several measures of college attendance, including the number of students who apply, those who actually attend college, those who take entrance exams and the financial aid students receive.
Students and families who want to attend this year's fair should speak with their campus counselor.