Dallas ISD's new evaluation system requires principals and assistant principals to be certified before officially evaluating teachers. In the month prior to the start of school, the District provided training to 648 principals and assistant principals on how to evaluate teachers under the new evaluation system known as the Teacher Excellence Initiative (TEI).
The rigorous TEI evaluator training includes three parts – system knowledge, rater accuracy and field experience. Of the 648 evaluators trained this summer, 99 percent mastered part one that assesses the administrator's knowledge of TEI.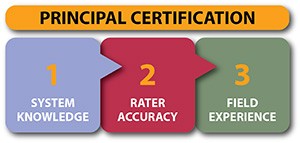 Perhaps the most difficult part of the certification exam is the rater accuracy component, which requires a series of calibration exercises and assessments to ensure normed scoring practices are implemented districtwide. Ninety-one percent of the 648 administrators mastered this portion. Additional training and opportunities to retake an assessment are provided to those who do not master part one or two on the first attempt.
"The certification is intentionally challenging to ensure teachers are evaluated fairly and accurately," said Miles. "Principals across the system must be calibrated to ensure consistency in administrating TEI and avoid some scoring a teacher too hard or too easy."
The third part of the certification process requires campus administrators who are new to Dallas ISD to conduct at least 15 spot observations, within the first three weeks of school, under the guidance of a TEI certified administrator. This requirement does not apply to principals and assistant principals who evaluated teachers last year and who already have experience conducting spot observations.
TEI Director Lindsay Coshatt says the certification process ensures teachers can provide the best instruction for our students. "It provides school leaders with the tools to review, support, and reward our teachers," said Coshatt.
The Teacher Performance Rubric is available at www.dallasisd.org/tei