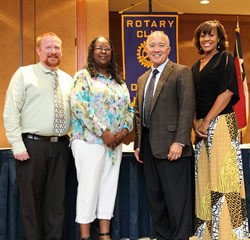 Through its Service Above Self Teacher Awards, the Rotary Club of Dallas calls attention to the importance of teachers, and rewards those who demonstrate excellence by going the "extra mile." Each year the organization solicits nominees from all Dallas ISD schools, and selects three finalists at elementary, middle and high school levels. Finalists are honored at a recognition luncheon, and receive cash and other awards, with the winner at each level taking home $2,500.
"Every year, it is a very special day for all who attend, but especially because it's a chance to give much- deserved recognition to those dedicated educators impacting the future of Dallas," expressed Dana DeVance, the chairwoman for the event. Emceed by Steve Eager of KDFW Fox 4, this year's celebration showcased the less traditional ways that teachers support students and encourage them toward success.
Elementary winner Stacy Owen from Annie Webb Blanton Elementary School led the room in a sing-along version of "I Feel Good," wrapping with "You Gotta Get an A." It's just one of the ways she encourages her students to "shoot for the A, and look for the lesson wherever you go."
After 25 years of teaching, Rhonda Graham will transition to a counseling position at George W. Truett Elementary School. The middle school winner from Harold W. Lang Middle School has had a career marked by dedication to her students. She emphasizes the importance of teaching by describing it as "the profession that gives birth to all other professions."
W.H. Adamson High School teacher Christopher Green was named the high school winner. He figured his last-minute application didn't stand a chance in the process, but the impact he has made as the director of bands at Adamson stood out. "I'm a big believer that every kid has a chance, no matter what his background is," said Green.
Superintendent Mike Miles closed the event, recalling three important teachers in his life. He shared that with the new Teacher Excellence Initiative, "We started with the knowledge that we can't measure everything – the phone calls, the encouragement, the extra hours spent with students." Paraphrasing a quote from a recent film, Miles noted that "You don't come in to teaching to be a hero, sometimes it just turns out that way."
Finalists:
Elementary School Level
3rd Place: Patria Jackson, Stevens Park Elementary
2nd Place: Sarah Ilagan, Robert E. Lee Elementary
1st Place: Stacy Owens, Annie Webb Blanton Elementary
Middle School Level
3rd Place: Shaunissy Brown, Fred F. Florence Middle School
2nd Place: Beth Poquette-Drews, L.V. Stockard Middle School
1st Place: Rhonda Graham, Harold W. Lang Middle School
High School Level:
3rd Place: NiaCara Laawrence, School of Health Professions at Yvonne A. Ewell Townview Center
2nd Place: Emmanuel Malana, Skyline High School
1st Place: Christopher Green, W. H. Adamson High School