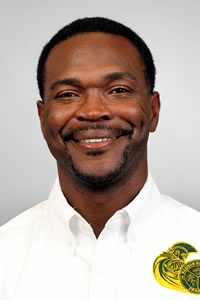 In 1989, Marcus Gates told his high school coach, "Mark my words, I'll be head coach here one day." Today, not only is he the head football coach at James Madison High School, he's also the athletic director, and teaches college and career readiness.
A natural at motivating students at Madison to work hard and pursue college, Gates draws inspiration from vivid childhood memories of his grandmother working long hours to support an extended family of nine.
"By watching her, I learned to work hard, and I knew that education would be critical if I wanted something different for my life."
After high school, Gates headed to college, graduated and played in the Canadian Football League. Fifteen years ago, he returned to Madison in hopes of making a difference in the lives of students.
"I tell my students all the time, 'I'm from these same streets. I've been where you are, and if I can do it, there's no reason why you can't do the same thing.'"
Last year, under the guidance of Madison's principal Gayle Smith, Gates helped develop a college- and career-readiness program designed to encourage students to start thinking about college and provide them with the tools needed to attend college and succeed.
Through the program, juniors and seniors are scheduled in an elective where they work on college-readiness goals ranging from SAT preparation to financial literacy, career cruising, FAFSA federal student aid and ApplyTexas applications, college tours and more.
He is adamant about broadening the minds of young students and each day, works to encourage them to have dreams and pursue them. He says the best thing anyone can do for students is to expose them to opportunities they may not otherwise experience.
Do you know of district employees who have gone beyond the call of duty? Send their names to thesamepage@dallasisd.org.