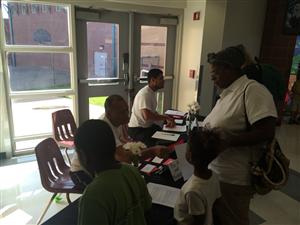 Beginning this fall, the newly-christened Eduardo Mata Montessori Elementary School will welcome its inaugural class of more than 300 students to the district's newest choice school program. The school will attract east Dallas families seeking an alternative to the popular Lakewood Elementary School.
"The Montessori program here is allowing for more diversity in our student body," said Principal Claudia Vega. "What's exciting is our school is becoming a neighborhood school that mirrors the east Dallas community."
The introduction of the Montessori program at Mata Montessori is the result of a plan approved by the Dallas ISD Board of Trustees designed to alleviate overcrowding at Mata and neighboring Mount Auburn Elementary, as well as at Stonewall Jackson Elementary and Lakewood Elementary.
Under the plan, Mata will add seven Montessori primary classrooms, serving grades P3 through kindergarten, this fall as well as another nine lower elementary classrooms for students in grades 1-2. The school will also begin to phase out its traditional elementary population, with fifth graders allowed to complete their final year at the school.
Vega is pleased that her staff has wholeheartedly embraced the changes.
"Our staff has been going all out and working hard to make this a success," she said. "The teachers in our community have always made sure we have a positive climate, and we still do. We can't wait to get started."
Since the Trustee's approval, staff at Mata hosted several meetings to raise community awareness of the new program. The outreach has been successful, regularly drawing more than 100 participants per outing and ultimately resulting in a small waiting list for the school.
Dustin Pedigo, the parent of an incoming first-grade student, is thankful for a school close to his family's home.
"We live down the street and have always wanted to try Montessori. (My son) attended Lakewood last year and it was pretty crowded," he said. "We heard about (Mata) and wanted to give it a shot."