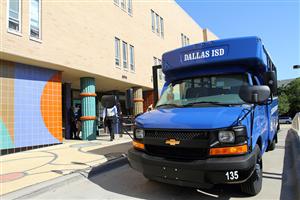 More than 30,000 students were safely transported to Dallas ISD schools the first day of school, roughly the size of the entire population of the city of Waxahachie.
The students were transported by bus or multi-passenger vehicle on one of 664 routes crossing the city.
"Transporting more than 30,000 students on the first day of school is a real challenge," said Dallas ISD Chief of Operations Wanda Paul. "While there will always be some transportation issues on the first day, we made much improvement over last year. There was a lot more planning and communication this year. Parents were provided more avenues to contact our staff and it seemed to pay off."
The district purchased 50 multi-passenger vehicles this year to transport nearly 3,000 students. The buses each seat nine passengers and are built to the same federal vehicle safety standards as traditional school buses, as well as GPS tracking and video camera systems. The district will ultimately save nearly $3 million in transportation costs with the new vehicles while increasing the safety and efficiency of student transportation.