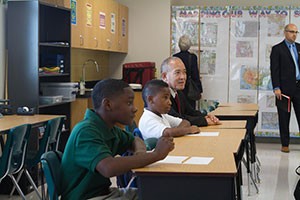 As Superintendent Mike Miles entered Thomas L. Marsalis Elementary School the morning of Aug. 25, the scene was similar to that taking place at 223 other schools on the first day of classes in the Dallas Independent School District.
As the clock reached 7:50 a.m., a steady stream of smiling children and focused family members entered the building and headed to their appointed classrooms or other locations. Outside, a handful of the more than 793 school buses in use across the district safely delivered smiling boys and girls to the southern Dallas school.
Miles and Deputy Superintendent Ann Smisko chose Marsalis for the superintendent's first visit to highlight its participation in the Imagine 2020 initiative. Once on site, Miles interacted with media but came away impressed with the organization and positive energy of Principal Kimberly Richardson and the Mustang team.
"Every first day of school is a fresh canvas that is full of possibilities, and Marsalis is a great example of that," Miles said. "For our school district, a new school year is an opportunity to build upon the achievements of our students, staff and Destination 2020. We're excited, hopeful and ready to push the bar even higher in 2014-2015."
The morning featured only minor or localized challenges across Dallas ISD, with students arriving at school on time, breakfast and lunch being served as scheduled, and no major air conditioning challenges. By mid-day, the district was roaring like a well-tuned engine.
The opening of schools this year includes several major steps for Dallas ISD:
The introduction of the South Oak Cliff feeder pattern into the expanding Imagine 2020 initiative. The 12 schools in that pattern, including Marsalis, will redouble their efforts to increase student achievement using innovative instruction, more professional development and community support.
The addition of 50 multi-passenger vehicles (MPVs) into the bus fleet. Dallas ISD, in conjunction with the Dallas County Schools, will operate the 9-passenger vehicles that are similar to mini-buses. Nearly 3,000 homeless students, deaf/special education students and students who attend magnet or choice schools will ride the buses.
For the second consecutive year, will provide school meals at no charge to all students in the district. Dallas ISD is one of the largest school district in Texas to provide this opportunity to students, available with funding provided by the U.S. Department of Agriculture through the Texas Department of Agriculture (TDA).