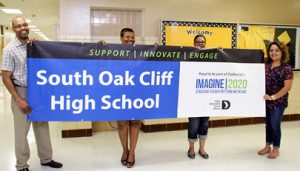 The South Oak Cliff High School feeder pattern has joined the 21 schools in the Lincoln, Madison and Pinkston feeder patterns that comprise the Imagine 2020 initiative. Schools in the Imagine 2020 feeder pattern receive additional support and resources for both students and teachers with the goal of increasing student academic ­achievement, improving college- and career-readiness, and training teachers to help them grow as educators.
"Imagine2020 will open the door to a level of instruction and services our students need and deserve at South Oak Cliff," said Principal Shon Joseph. "The increase in services and personnel will positively impact our students. The initiative is more than a dream. The support the initiative provides will mean the difference between a student dropping out of high school or going to college."
SOC Executive Director Usamah Rodgers said she believes the additional resources the initiative provides will help to significantly improve outcomes for students.
"I am extremely excited about [SOC] participating in the Imagine 2020 initiative," said Rodgers. "Additional administrators and department chairs on each campus allow teachers to receive instructional feedback on a more frequent basis while teachers and students will benefit from technology-supporting learning models along with additional resources to promote college- and career-readiness at their schools."
The new director of the Imagine 2020 initiative is Regina Rice, who previously served as the Curriculum and Instruction manager for Imagine 2020. Prior to that position, she served 13 years as a principal following a decade of service as a Dallas ISD teacher.
Rice attended elementary, middle and high school in the district. After graduating from Justin F. Kimball High School, Rice attained a bachelor's degree in elementary education from the University of North Texas and a master's degree in Curriculum and Instruction from Texas Wesleyan University.
In addition to the program's new leadership, the Imagine 2020 schools will receive colorful banners to be placed on each school's exterior. The new banners more visibly announce each school's inclusion in the initiative to campus visitors and the communities they serve.
To learn more about Imagine 2020, go to www.dallasisd.org/imagine2020.