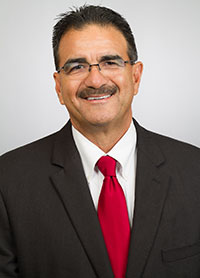 Veteran coach and athletic director Gil Garza is the Dallas ISD's new athletic director. He most recently worked in the San Antonio Independent School District where he served as athletic director from 2002-2014.
"The experience and leadership Gil brings is impressive," said Superintendent Mike Miles. We knew he was the best candidate to lead the department as we forge ahead and continue to provide the best learning and athletic environment for our students."
Garza brings more than 30 years of coaching and athletic leadership to the district, including as an appointee of the TEA Commissioner to the University Interscholastic League (UIL) State Executive Committee. The 11-member committee interprets the rules, settles disputes between UIL districts, and conducts investigations and hears appeals of alleged violations.
Garza is one of three current athletic directors in the state to sit on the committee.
"The immediate goal of the athletics department is to teach and mentor our staff as we build a better system that demonstrates a sense of pride, class and credibility," said Garza. "I'm happy to serve the entire student body of the Dallas ISD as we push to ensure our students are college or career ready upon graduation. If we have competent, credentialed leaders who take pride in shaping our students, we can reach that goal."
Throughout his career, Garza has been elected to various state boards, including the board of directors of the Texas High School Athletic Directors Association (THSADA). In 2009, he was elected president of the THSADA and in 2010 was named THSADA Athletic Director of the Year.
Garza began his first week in the district by issuing a commitment to principals to collaborate with each of them saying, "It is my desire to work as part of your team of excellence as a respected resource you can depend on when making the critical decisions of hiring, evaluating, and developing your coaches to be the best."