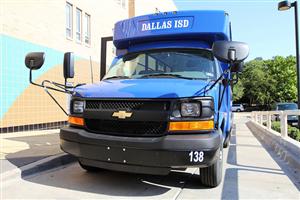 The Dallas ISD purchased 50 multi-passenger vehicles to transport nearly 3,000 students on routes that do not require full-size school buses for use beginning the first day of school, Monday, Aug. 25.
The new vehicles allow more efficient transportation routes with fewer students in the upcoming school year.
"This is just a better option to transport children," said Wanda Paul, chief operating officer of the Dallas ISD. "We want to make sure we transport students safely and efficiently. After the challenges we experienced last year, we were committed to coming up with a better way to service our students. The MPVs help us do that."
The smaller multi-passenger vehicle buses seat nine passengers and are built to the same federal vehicle safety standards as larger buses.
The buses are clearly marked with the district name and fully equipped with all the latest safety features like GPS tracking that can locate buses, radios that will help contact drivers and video camera systems that will aid in monitoring the activity on each bus.
Paul estimates the district is on target to save nearly $3 million in transportation costs this coming school year with the added vehicles.
"Three million dollars," Paul said, "that can go toward resources that can be put back into the classroom."