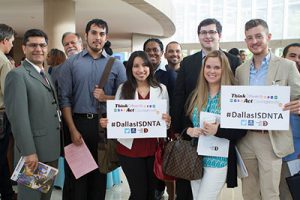 In preparation for the 2014-2015 school year, the Dallas Independent School District has filled more than 99 percent of its teaching positions, its lowest percentage ever prior to a school year.
As of August 23, Dallas ISD had only 25 open teaching positions available in its 224 schools, which amounts to less than one percent of its more than 10,000 member teacher workforce. In comparison, there were approximately 860 teacher vacancies at the beginning of the 2011-12 school year and more than 300 vacancies at this time last year.
To break the cycle of having far too many vacancies on the first day of school, the district had to think differently about how positions were filled. Internal processes were changed to empower principals to begin filling anticipated fall openings prior to the end of the school year.
In all, this means nearly every Dallas ISD student will begin the year with a full-time classroom teacher, according to Superintendent Mike Miles. As importantly, more than 40 percent of the district's new hires are new to the metropolitan area.
"Never before has this district been able to ensure that every student will begin the year with a highly-qualified and full-time teacher. It's unprecedented, and it speaks to the proactive outreach of our Human Capital Management team," Miles said. "The vast majority of these teachers were hired prior to June 15. We have demonstrated an ability to attract the type of talent we need to support increased achievement."
The Dallas ISD Board of Trustees approved an additional 389 teaching positions this school year to address class sizes.
More than 2,000 of the new teachers streamed through the doors of the Morton H. Meyerson Symphony Center on Aug. 11 to attend the 2014 Dallas ISD New Teacher Academy. The record number of new teachers at the academy is testament to teachers' desire to serve Dallas ISD children and an enthusiastic response to the transformation taking place in the district.