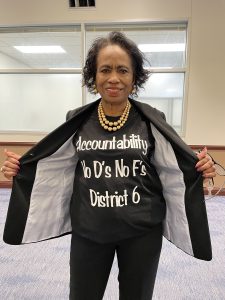 Dallas ISD trustees at their meeting Thursday basked in the glow of the recently released Texas Education Agency accountability ratings that revealed the district achieved an overall "B" rating for last school year despite the challenges of the Covid pandemic.
No one was more elated, however, than District 6 Trustee Joyce Foreman, whose district in southwest Dallas was the only one to have not a single school rated below a "C." Of the 24 schools in District 6, one earned an overall "A" rating, 16 earned a "B" and eight earned a "C."
"I want you to excuse my joy," Foreman said. "This is not to demean any other trustee but to make sure I recognize and brag on the fine District 6 executive directors, principals, students, and staff. For many years I have envisioned a school district that had a clear understanding of equity and what the results would be when we moved in that direction."
Sporting a T-shirt that read "Accountability – No Ds, No Fs," Foreman took the time to personally thank by name each executive director and principal in District 6.
"All of us can celebrate the fact that schools that were not expected to have such a tremendous outcome were able to do it," the trustee said. "These are southern sector schools that showed a dream can be realized."
See the full video of the trustee's presentation at https://live.myvrspot.com/iframe?v=OGMxZDkxOTVmZGZhODlhYzQwZjg4NzBiYWY0YjY1Yjk.