A severe vision impairment hasn't stopped Abelino Leija, a sophomore at Madison High School, from playing soccer along with his teammates.
After a group effort by his case manager, his soccer coach, and The Vision Team staff at Madison, Abelino obtained specialized protective goggles that allow him to meet the medical requirements that kept him from joining his high school's soccer team during his freshman year.
While Abelino struggles with stargardt macular dystrophy, an eye disease that affects his central vision by making it hard to see what's in front of him, he doesn't let the condition hold him back from accomplishing his dream of playing sports.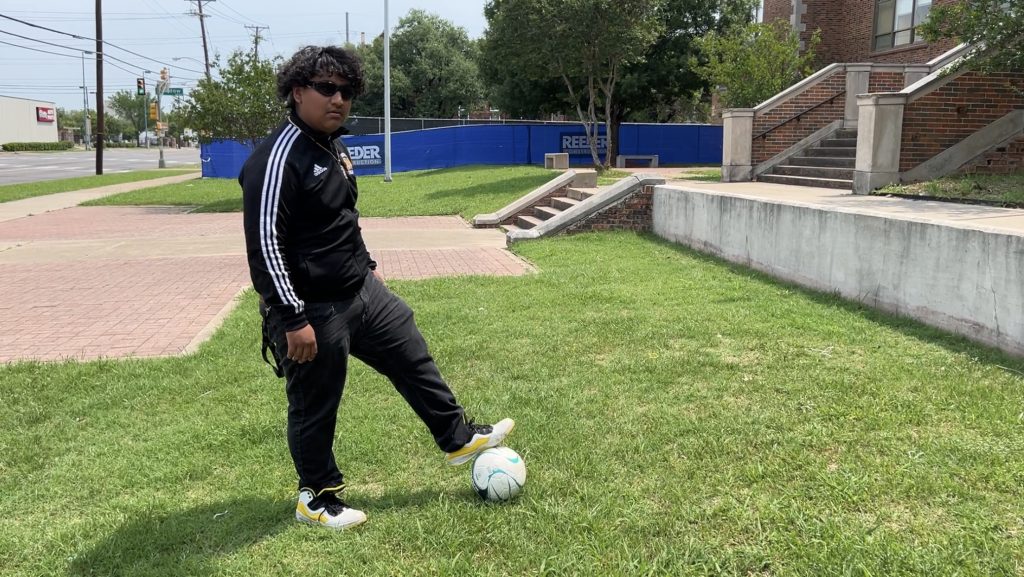 Abelino navigates "The Great" James Madison every day with a cane and keeps a pocket-sized telescope handy so he can see things that are far away. During class, a CCTV screen helps him read the board accurately. And while seeing straight ahead is nearly impossible for him, when Abelino is looking from the side of his eye he can see the world around him clearly through his peripheral vision.
"Everything in front of me is blurry," Abelino said. "There are many things that are really hard for me to do because of my vision. But I know that, as long as I keep trying, I can do anything."
Soccer is the most popular sport anywhere south of the border, and the Mexican state of San Luis Potosí – where Abelino's family is from – is no exception. His dad taught him how to play when he was a young boy. And when the cousins, siblings and friends gathered for family parties, fútbol was the number-one bonding activity for the kids. It was then that Abelino knew he'd like to play competitively when he moved up to high school.
Finding a sense of purpose
Every Dallas ISD student who wishes to partake in high school athletics must be cleared by a physician prior to participation. After Abelino was examined by a physician and by a vision specialist, the medical professionals determined that he could only play soccer if he wore a set of custom-made protective eyewear with an eyeglass prescription, an item that surpassed his family's budget. But that didn't stop Abelino from getting involved, even if he wasn't allowed to play in matches.
"I saw that he was really passionate and that he showed a lot of interest and a real strong desire to play soccer, so I signed him up and found a way to incorporate him into our team as manager and gave him some responsibilities," said Jeronimo Santos, Madison's head soccer coach. "He jumped right in, and it had a tremendous impact on his person, not only as a young man, but as a student. We saw that his grades started increasing shortly after. He was just very excited, and I was excited to see that he found a sense of purpose."
As manager, Abelino supported his team by leading the warmups and getting his teammates excited to train. During practice, he'd make sure that all the balls were inflated and would pass water to his teammates during breaks. During tournaments, he'd pack duffle bags with extra jerseys, shorts, socks and shin guards to make sure none of his teammates were missing equipment.
"Being a manager meant so much to me because I have a passion for soccer," Abelino said. "It's hard when your condition gets in the way of you doing what you want. My dad knew that I loved playing and he always motivated me to not give up on my dreams. When I became manager, I made friends with all my teammates and that motivated me even more."
Dallas ISD's Special Services Department manages The Vision Team, twenty teachers and specialists who support students across the district who battle vision impairments and blindness. At Madison, a teacher of students with visual impairments teaches content and ways to facilitate learning, and an orientation mobility specialist teaches students how to navigate the campus independently.
Fulfilling a need
Britney Cooks, the Orientation and Mobility Specialist assigned to Madison High, who met Abelino when he was a student at Dade Middle School, has been working with him for four years. When she learned about Abelino's desire to play soccer and of his financial impediments to obtain the necessary equipment, she took it upon herself to fulfill his need.
"I reached out to All Blind Children in Texas, a nonprofit organization that really helps with students who are visually impaired," Cooks said. "I told them about Abelino's case and about how these glasses were really expensive and asked if they could make an exception because he was so eager to finally play soccer. They were really touched by his story and admired his perseverance, and they granted the funds to pay for his glasses."
Madison science teacher and baseball coach Joe Henry also works for Special Services as Abelino's case manager. He's been working with Abelino for the last two years and supports him by making sure he's doing his classwork and turning in his homework, and by helping him with issues that he may encounter.
"When he first got here, he was very laid back and really didn't interact with any other students," Henry said. "You can see the whole difference in him. He's just come from being down to being way up. He's got friends everywhere and is really enjoying himself as a sophomore. He's just doing things very differently now and he's really having a great time and doing really well.
Besides using his protective gear on the field, Abelino wears his goggles regularly, as they help him navigate the world with ease.
"It's really important that the student is at a campus that is supportive and builds a community around our students, because we have to help many students and we can't be there at all times," Cooks said. "I am impressed at how Madison took Abelino underneath their wing, and how Coach Santos and Coach Henry really helped him build his confidence and made sure that he had whatever he needed to play soccer. I am impressed and honored to be working here at James Madison High School."
During the 2022-23 school year, Abelino will become a Trojan representing "the Great" James Madison High School on the soccer frontlines for the very first time.
"I am thankful for my coaches and my teachers because I thought I would never be able to play, and they helped me get there," Abelino said. "Remember to fight for what you want to do and never let something small discourage you from doing what you love."