As she won a national entrepreneurship competition in New York City this month at the age of 18, Jasmine Benton­–a recent graduate of Dallas ISD's Innovation, Design, Entrepreneurship Academy (IDEA) at James W. Fannin– thought of those who helped set her on her path.
At age 11, Benton started her business–Precious Designs–that today refurbishes and reupholsters housewares. In addition to the strong influence of her grandmother and mother, Benton credits her education at IDEA for helping set her on the path toward becoming a successful entrepreneur.
"My teachers at IDEA invested in me and made sure I was able to learn on an entrepreneurial level," Benton said. "It's great to have teachers who care. They helped me understand what it takes to grow my business."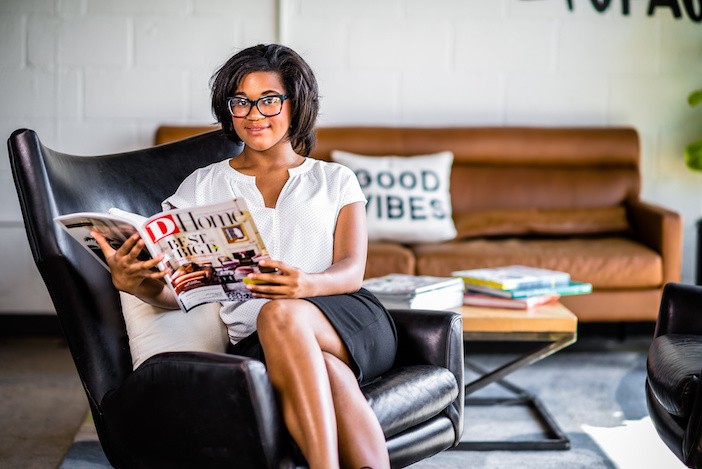 Benton won the 2019 Business Venture of the Year at the NFTE National Youth Entrepreneurship Challenge, earning her $7,500 and an investor to help grow her business. When she isn't running her business or turning heads as an entrepreneur, Benton is enrolled as a freshman at Oklahoma Christian University.
Benton comes from several generations of female entrepreneurs. Her grandmother instilled in her a love of design and gave her the mindset that she can do anything.
"Design is what fuels my business," Benton said. "It fuels my drive and energy to keep going."
IDEA at Fanin is one of more than 60 choice schools that will be at the Discover Dallas ISD School Expo, which will connect students with their best-fit schools. IDEA Principal Nakimia Foster said she looks forward to meeting potential students at Discover Dallas ISD with bright futures like Benton.
"Entrepreneurship education serves as a foundation for instilling the creative and innovative skills needed for students to succeed in the 21st century. It provides the opportunity for educators to help students tap into unrealized talents that are outside of the typical high school course of study," Foster said. "We are so proud of Jasmine's accomplishments and cannot wait to see more from this talented CEO, designer and social entrepreneur."