Thomas C. Marsh Preparatory' Academy's Leadership Cadet Corps (LCC) participated in a special Veterans Day event as part of the school's Preview Night on Thursday, Nov. 8, to showcase the programs available at the school.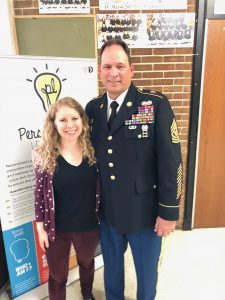 The LCC Military Museum was open for tours and a reception for families honoring veterans was conducted in the LCC classroom. Special guest Command Sergeant Major Robert B. Breck of the 807th Medical Command based in Fort Douglas, Utah, spoke in LCC classes during the day and also spoke during the evening reception, where he was introduced by his daughter Jamee Jones, a teacher at Marsh.
CSM Breck shared his experiences and also reminded students to be humble, kind and respectful. 
Veterans Day is Sunday, Nov. 11, but will be observed on Monday, Nov. 12. A parade Monday through downtown Dallas will feature Dallas ISD students in JROTC, marching band and other groups to honor veterans.