A one-stop shop to prepare children and their families for the school year, the 21st Mayor's Back to School Fair, presented by Walmart, will take place on Friday, Aug. 4, from 8 a.m.-2 p.m., at the Centennial Building at Fair Park.
"We want to make sure that kids are well-prepared for their first day of school," said Dallas Mayor Mike Rawlings. "Getting ready for school – buying supplies, getting immunizations and haircuts and seeing the dentist – can be overwhelming and expensive for families. We hope that the Fair can ease some of that burden, plus put kids on the right track for a successful school year."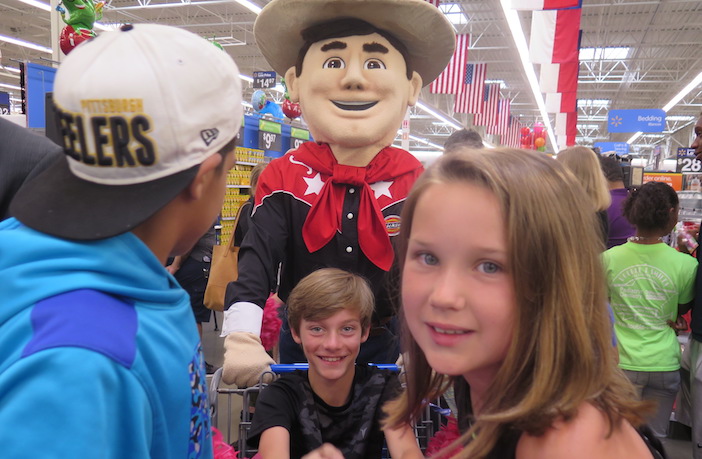 With an expected attendance of 35,000, the Fair is a one-stop-shop complete with all the back-to-school basics. Parents and children can find everything they need to prepare for the school year – from free school supplies for Dallas schoolchildren (who meet eligibility requirements); to free health, dental and vision screenings; to immunizations and haircuts; plus the latest information on education, health and social services. The Fair also will feature musical entertainment, kids activities, games, interactive demos and more. Eligible families with pre-K and elementary school students also will receive a colorful backpack at the Fair.
Walmart will conduct free vision screenings and offer general health screenings, including blood pressure and glucose checks, for all family members. Texas A&M University College of Dentistry will provide free dental screenings and oral health information for everyone, plus fluoride applications, toothbrushes and toothpaste to students. Dallas County Health & Human Services will provide free immunizations; the National Kidney Foundation will offer kidney health screenings; and Children's Health will offer consultations on asthma, behavioral health, BMI readings and nutrition. Cedric B's Barber and Beauty Salon and Ogle School of Hair, Skin and Nails will offer free haircuts to students. Essilor Vision Foundation will be on site conducting eye exams and providing eye glasses at no cost to qualifying families. In addition, Half Price Books will give away 10,000 books.
Dallas ISD will have a large area with bilingual staff on hand to provide information on magnet schools, scholarship and alternative programs, psychological and social services, parenting and family literacy.
Additionally, educational information and services, in English and Spanish, will be offered at hundreds of community resource booths on crime prevention, fire safety, college readiness, housing, transportation, personal finances, health, nutrition and literacy.
Eligible families who qualify for free school supplies are encouraged to pre-register by mail or in person at pre-registration events throughout Dallas.
IMPORTANT: Free school supplies are available ONLY to those who meet specific eligibility requirements (must be public school students pre-K through 12th grades who reside in the City of Dallas or attend a Dallas ISD school and meet the 2017 Federal Poverty Income Guidelines). A PHOTO ID, PROOF OF RESIDENCY AND PROOF OF INCOME ARE REQUIRED TO QUALIFY.
Picture ID includes state driver's license, state identification card, military identification card, or foreign consulate-issued identification (i.e. Matricula Consular). City of Dallas proof of residency includes June, July or August 2017 utility bill (electricity, water, phone or gas) showing applicant name and current address or letter from landlord or apartment management company, on company letterhead, indicating proof of residency during June, July or August 2017.
Proof of Income may be verified using paycheck stubs from June, July or August 2017 or a letter dated in June, July or August 2017 on agency or company letterhead from an employer, welfare office, caseworker, or Social Security Administration Office indicating annual income and signed by an agent of the company or agency. Letter must include contact phone number for verification. Other qualifying documents include a Medicaid letter, Lone Star Program Card and a Dallas ISD letter indicating qualification for free lunch program.
Admission is free. Parking is free, or visitors can take the DART Rail Green Line to the Fair Park or MLK, Jr. stations. New this year: Shuttle service within Fair Park will be available to and from the Centennial Building, where the Fair's main entrance is located. The Centennial Building at Fair Park is located at 1001 Washington St. in Dallas.
For more information, call 311 or go to mayorsbacktoschoolfair.com.