A group of young entrepreneurs at Sunset High School has earned the campus a Gold Level Certification for their work operating and managing the school store.
Sunset teacher Marcus Nickerson leads the DECA School Store class that researched and wrote a 37-page report on the school-based enterprise (SBE). The report details everything from the cash flow, profit/loss margin, inventory tracking and marketing plan for the business. Students in the class also operate the store through positions such as barista, financial clerk, store manager, and inventory specialist.
DECA, a student organization that prepares emerging leaders and entrepreneurs, recognized Sunset High School and 359 other school-based enterprises with its Gold Level Certification. This is the first time a Dallas ISD school has received this recognition, Nickerson said.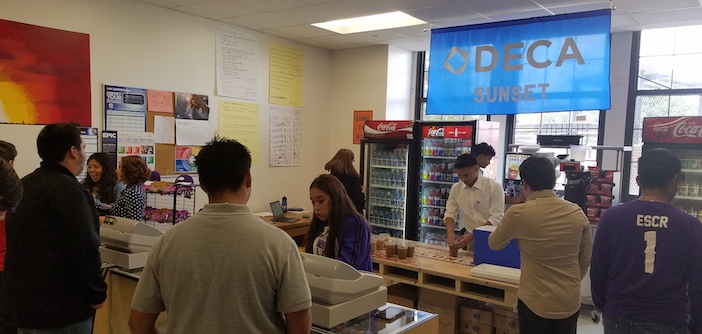 This past weekend, the students competed in DECA State Career Development Conference and received a Certificate of Completion for the store. In late April, three of the students will travel to California for DECA ICDC (International Career Development Conference. The students will attend the SBE Academy and compete in the retail operations competitive event based on the school store promotions indicator. The students will also receive the Gold Level Certification Plaque to be displayed within the school store.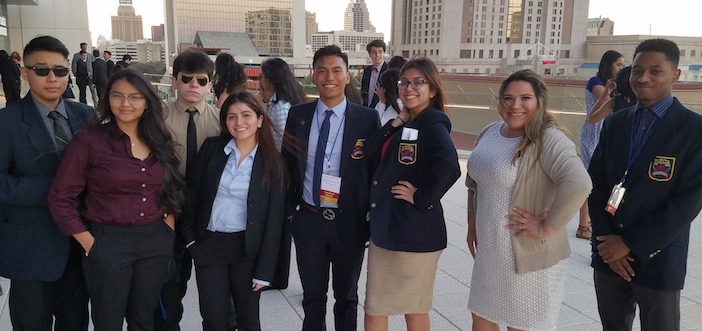 "These students have put in tons of work and dedication into the school store and project, and I couldn't be more proud of them," Nickerson said.
The students who earned the Gold Level Certification are:
Alexis Ortiz- V.P of Leadership
Victoria Mendoza- President
Chris Deluna –  V.P of Finance
Britney Montes
Priscilla Contreras- V. P of Hospitality
Angel Martinez
Damian Perez
Samantha Morales
Fredy Valenzuela
The SBE at Sunset High School has operated for more than 10 years. A SBE is an entrepreneurial operation in a school setting that provides goods and services to meet the needs of the market.
SBEs are managed and operated by students as hands-on learning laboratories that integrate National Curriculum Standards in Marketing, Finance, Hospitality and Management. Marketing educators and DECA advisors have utilized this effective educational tool for over four decades to provide their students with realistic and practical learning experiences that reinforce classroom instruction, enhance 21st century skill development, and prepare students for college and careers.
DECA's School-based Enterprise Certification Program was developed to provide recognition for outstanding achievement by school-based enterprises and to motivate SBEs to strive for excellence and growth. SBEs can be certified at three levels: Bronze, Silver or Gold.
In order to apply for the certification, SBEs must submit extensive documentation that demonstrates their adherence to various marketing and retail standards. After the documentation is submitted, a review committee evaluates the documentation to determine which level of certification has been achieved.