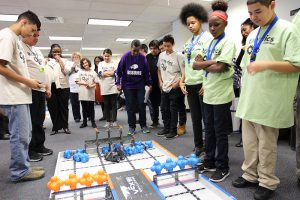 Seven robotics teams from five schools competed in Dallas ISD's first Special Needs Robotics Scrimmage on Wednesday, Feb. 15, at the H.B. Bell Building.
Sunset High School, W.H. Gaston Middle School and the Young Women's STEAM Academy at Balch Springs each had one team, and Billy Earl Dade Middle School and J.L. Long Middle School each had two teams.
The teams faced off with their VEX IQ robots, aiming to complete as many tasks as they could in two minutes. They used the robots to move around large blue or orange plastic balls. Each team had two drivers who would switch at the 1-minute mark during a round. The robot kits are assembled and maintained by students as well.
The idea of a robotics squad solely comprising special-needs students began last year at Sunset, with the school's Robo*Flash team. Team sponsors LaKeisha Farrow and Pauline Tatum are hoping to build the world's first competitive league for teams like the Robo*Flash. If the participation of other schools on Wednesday is an indication, that goal is well on its way to become reality.