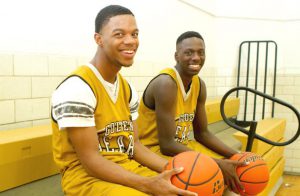 According to the NCAA, each year half a million boys across the U.S. participate in high school basketball. Of those, 3.3 percent will go on to compete to at the college level. Two student-athletes in the Dallas ISD have joined that elite group thanks to persistent academic efforts that have placed them at the top of their graduating class.
South Oak Cliff High School senior basketball players Olando King Jr. and Frank Byers Jr. are like most teenage hoopsters—they dream of state championships (a real possibility for a highly successful program such as the one at SOC) and what collegiate teams they'd like to join. But the two are different from many of their peers in that their competitive spirit has propelled to the top of their senior class, positioning them as potential salutatorian and valedictorian.
"Frank and Olando are great kids," said James C. Mays, SOC head boys' basketball coach. A 22-year coaching veteran, Mays has seen his share of student-athletes come and go. Some have gone on to major college programs. Others have realized success in the pros. He says the one thing he works hard to instill in his players is the belief that a quality education can make the difference in whatever they choose to do.
"(Frank and Olando) have good parents, a good support system, and as the saying goes, the fruit doesn't fall far from the tree," said Mays. "It's not so much what we've done. It's how they came here, how they got to us in addition to what we did to help develop them."
The pair are students in SOC's Academy of Information Technology, a niche where Mays says their interests grew and where they developed as leaders.
Active on campus as members of Student Council, Frank as the senior class president, and Olando as the class secretary, both are a part of a crew of young men who sweep the halls encouraging peers to get to class on time, serving as examples of the behavior they want to develop in others.
Their efforts and goals closely mirror each other's, perhaps in part because they are cousins. Though not raised together, they came to know each other through an uncle at a family gathering not long ago.
"We kept hearing 'you know you have a cousin that plays at SOC with you …'" said Olando, "but we never could figure out who the other was." Soon after, following a game, the two were introduced. From there, the competitive drive flourished, one pushing the other to be a step more successful.
"We'd get up and work out all day, trying to get better so that we could win, be better, help our team more," said Byers.
The encouragement and motivation Byers and King share as family members and teammates extends beyond basketball into their college and career goals. Both plan to major in petroleum engineering.
This past summer, Byers secured an internship at JPMorgan Chase, where he learned much about the financial field and much about himself. "I talked to a lot of people whom I considered mentors while working [at JPMorgan Chase]and learned a lot about what's out there for me professionally," he said.
Byers recalls being nervous his first days on the job as he learned to manage his time and how to network with other professionals. With this first internship under his belt, he's now established a LinkedIn account to extend his networking and professional profile. While Byers focused on the business world at JPMorgan Chase, King worked under his father's tutelage, learning the family business.
As for college, the two are weighing the benefits of several schools athletically and academically, among them Rice, Texas, Texas A&M, Stanford and the University of Houston, all attractive options that offer studies in Petroleum Engineering and business and finance.
King says the key to his success is balance — allocating time to study and time to better his skills at basketball, which he views as a possible ticket to a better life.
"It gave me something to push for, trying to get out of the neighborhood I live in, trying to get my family out," said King. "My goal, more than anything, is to go to college and live a good life."
Catch Byers and King and the rest of SOC's Golden Bears in this season's matchups.