Community members with knowledge of teachers, principals and schools that are doing outstanding work to make a difference in the lives and academic achievement of children can partner with Texas grocery retailer H-E-B to honor those accomplishments.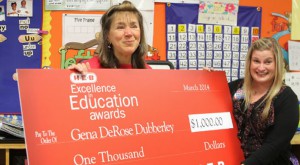 The company, which operates Central Market in Dallas, a multi-year sponsor of Dallas ISD's Teacher of the Year recognition program, has launched its 14th annual H-E-B Excellence in Education Awards, presented in cooperation with the Texas Association of School Administrators (TASA). This year's awards program will reward outstanding educators, school districts and school boards to the tune of more than $80,000.
Last spring, Anne Frank Elementary teacher Gena DeRose-Dubberly was selected as a finalist in the competition, and both she and her school received awards of $1,000.
The awards are shared among 30 teacher finalists, 10 principal finalists, eight district finalists, five early childhood finalists and up to five school boards that will be honored at a special recognition dinner in May where 11 overall winners will be announced. Based on their years of experience in the classroom, teachers will receive awards ranging from $5,000 to $25,000, plus a matching award of the same amount for their schools.
Principals will receive $10,000 and a $25,000 grant to their school; an early childhood facility will receive a $25,000 grant; a small school district will receive $50,000; a large district $100,000; and if selected for a special judge's prize, a school board will receive $25,000 in the form of a grant to the school district they serve.
Anyone can nominate a teacher, principal, school district, early childhood facility or school board by going online. The deadline for nominations is Jan. 15, 2015.