Parents encouraged to attend with questions for college reps.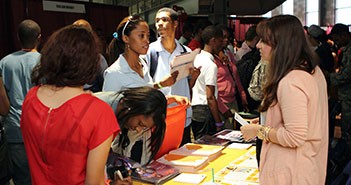 Even if they don't know where they want to attend college — whether the east coast or west, private or public, Ivy League or community college — Dallas ISD high school juniors and seniors will have a chance to learn about all types at this week's Districtwide College Fair. Representatives of more than 150 colleges, universities, vocational schools and the U.S. military will descend on Dallas ISD for the district's annual college fair, set for 5:30 to 8:30 p.m. Wednesday, Sept. 17, at Ellis Davis Field House, 9191 S. Polk St.
The list of area schools that will exhibit at the fair reads like a who's who of the DFW community: UT Dallas and Arlington, Paul Quinn College, Texas Christian University, SMU, the University of North Texas, El Centro, Mountain View and Richland community colleges.
Students who want to explore a little further afield can visit and talk with representatives from Prairie View A&M, University of Houston, Tyler Junior College, Oklahoma State, Rice, and Texas A&M campuses at Commerce, College Station, Corpus Christi, Galveston, Kingsville and Texarkana.
Historically black college and universities whose recruiters will be onsite to talk with students include Dillard and Xavier universities, Spelman and Morehouse, Grambling State and Prairie View A&M universities.
Students who want venture away from Texas will have a chance to visit booths representing Tennessee State University, St. John's University, the University of New Mexico, the University of Cincinnati, Wellesley College, Tufts University and the University of Arkansas. Recruiters from at least one international school are expected to attend — La Universidad de las Americas in Puebla, Mexico.
Careers in the military will be another option students can learn about. Representatives of the U.S. Air Force ROTC, the U.S. Army National Guard and the U.S. Coast Guard Academy will be on site to answer questions about their programs.
The event will also feature avenues of exploration for students looking for post-secondary training opportunities to prepare for careers. Career and proprietary schools including Regency Beauty Institute, The Art Institute, the College of Health Care Professions and Escoffier School of Culinary Arts are among a dozen career training schools expected to have information at the fair to share with students.
It's important to note that parents are welcome at the fair, and are encouraged to bring questions about college financial aid, campus safety and student access to medical care.