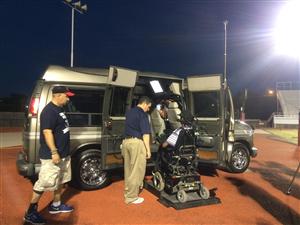 Former Moisés E. Molina High School quarterback Diondre Preston received the gift of mobility on Thursday, Aug. 28, during halftime of a game between his alma mater and R.L. Turner High School. Preston suffered a spinal cord injury on the field in 2010, which left him fully paralyzed.
With the help of Gridiron Heroes, the former football star was presented with a handicap-accessible van. It was a moment he and his mom will never forget. For more than a year, the Prestons have had no readily accessible way to transport Diondre.
Gridiron Heroes is a non-profit that provides resources and support to high school football players who sustain catastrophic spinal cord injury through game-related activities.
Check out more on this story covered by WFAA Ch. 8 of Diondre, a 2011 graduate of Molina, as he prepares to receive the van.